Dear Customers and Staff:
Last heating season Oppure Oil met its goal of delivering to all accounts safely and on time; an accomplishment in which we take great pride. Kudos to our team! As we celebrate our tenth anniversary, I have several updates to share with you.
Welcome to our new staff members, John Micklus, Operations Manager, Ann Savoie, Account Manager, and Ben Holmes, Delivery Manager. Please stop by during business hours to meet the team at our new office at 87 Central Street, Winchendon, directly across from the police station. We're here and available to answer your questions and accept cash payments. Our door is open. We look forward to meeting you.
Upgraded Technology
To keep up with the times, and our pledge to provide transparency, we have upgraded our technology. About a year ago, we introduced an online guest checkout ordering system by Droplet Fuel. Due to its success, we have committed to implementing the entire software suite. I am very impressed with the system's ability to process and dispatch orders in real time, allowing us to better serve you. You'll find the new software to be more user-friendly than our legacy system. Those who have previously used our guest checkout will already be familiar with the look and feel of the new system.
This software is active on our website now. You will notice a few changes:
Customer numbers are changing from 4 to 6 digits. For example, the previous customer number 4567 will now be 104567.
Delivery tickets left behind when we make delivery will look a little different, but all the critical information is still there.
If you still have an account on the legacy system, you will need to convert to our upgraded system by creating ­a new username and password. Legacy usernames and passwords are now obsolete. However, we have records of all past transactions and will make them available to you upon request. I encourage you to establish your new username and password before the heating season begins. It is very easy to enroll. Go directly to our website oppureoil.com and click on "Order Online 24/7" then "Register" and follow the prompts.
Oppure Oil Smart Gauge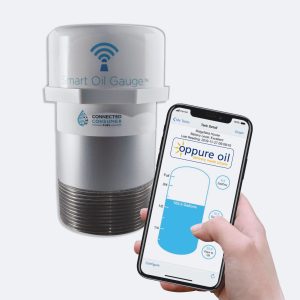 Another perk of the upgraded software suite is the smart gauge. This gauge can be easily attached to all existing oil tanks regardless of tank size and connected using a 2.4 GHz Wi-Fi connection. Once connected you can check your oil level, and track your usage hourly, daily, weekly, monthly, or yearly. You can easily order oil directly from the gauge app and share your tank monitoring with Oppure Oil so we can deliver it to you automatically. I recommend these devices to anyone who wants better tracking of usage. It is especially recommended for seniors, snowbird vacationers, tenant-occupied spaces, vacation homeowners, and folks with crawl spaces or outdoor tanks. You can order a gauge online when you order oil, and pick it up at our office on Central Street or have our driver drop it off at the time of your oil delivery. Units can be self-installed or we can recommend an installer for you. Certain precautions should be taken before installing the gauge yourself.
I have personally had a chance to test this gauge and I found it to be very accurate and reliable. By having oil-usage information so readily available, you can see how thermostat setbacks and other home improvements add up to a big difference in fuel cost savings. The price of the gauge is $140, plus a $30 annual monitoring service fee. It is important to note that Oppure Oil is not selling these gauges for a profit. The gauge is an optional added-value service offered as part of the upgraded software suite.
Thank you for your continued support and for the opportunity to serve you. We are constantly working to secure your trust, operating with integrity, and delivering high-quality, unblended fuel oil for our community.
Kind Regards,