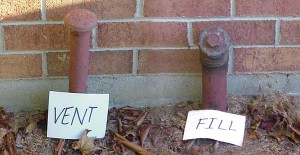 During the winter, we see many customers remove snow and ice from the fill pipe but not the vent pipe… but did you know it is more important to keep the vent pipe clear?  Although we certainly appreciate snow, ice and plants cleared from the fill pipe, we urge our customers to please take the time to do the same with your vent pipe.
Under normal operation (when we are not filling) your vent is designed to relieve the vacuum created from your oil burner pulling oil from the tank.  A blocked vent pipe can cause a no heat call.
Besides snow, ice and plants, another blockage culprit can be insects setting up shop inside your vent.  If we suspect a vent blockage, we will notify you and we recommend having the problem fixed right away using one of our neighborhood service providers.
A few facts about the vent piping:
The vent piping must be same size diameter or greater size diameter than the fill pipe.
The vent piping must be run and terminate above the fill pipe.
Vent pipes shall be installed as to drain toward one tank without sags or traps in which liquid can collect.
Vent pipes shall terminate outside of buildings at a point not less than two feet measured vertically or horizontally from any building opening.
Outer ends of vent pipes shall terminate in a weatherproof vent cap or fitting or be provided with a weatherproof hood.
If you have any questions about your vent pipe, call us and we may be able to provide answers or send you to one of our trusty Neighborhood Service Providers for a repair job.